NEFF Kitchen Appliances.
Neff is one of the UK's leading providers of built-in kitchen appliances. Known for the quality, durability and style of its product range, this German brand has been popular since 1914 and the company recently celebrated its 140th Anniversary. Today, Neff is at the forefront of kitchen engineering, producing cutting-edge appliances that make your kitchen more functional and beautiful.
With an impressive catalogue of award-winning kitchen appliances that come in many variations to suit all needs and budgets, Neff is the clear choice for many dreaming of their ideal fitted bespoke kitchen.
The NEFF range is truly extensive, from Ovens and Hobs to Dishwashers and Fridge Freezers – there's something to suit every kitchen. Below are just a few of the latest innovations from Neff.
NEFF Slide&Hide® Ovens.
The only oven with a disappearing door.
No other oven gets you closer to your food. As the name suggests, the unique, innovative door slides and hides smoothly under the oven cavity. This allows much closer accessibility to the oven, making tasting, basting and monitoring your food easier than ever. With a wide menu of features and functions to choose from, there's a Slide&Hide® oven for every cooking style.
Slide&Hide® ovens feature CircoTherm®, Neff's unique hot-air system for simultaneous baking and roasting on up to three levels. They come with dual cleaning options: pyrolytic cleaning for after the oven has seen heavy use and EasyClean® — the quick and easy option for day-to-day maintenance. Other features include Shift Control for fast navigation through menus and simple operation, and a TFT high-resolution display that makes programming your oven easy.
NEFF Pyrolytic Cleaning.
A Sunday roast is delicious, but it's also messy. With NEFF's Pyrolytic cleaning, scrubbing the oven is a thing of the past. All you do is press a button and wait while fatty food deposits are burnt away. Simply wipe away the ash, leaving the oven cavity perfectly clean. You can even choose from three settings, depending on how messy your oven is.
Pyrolytic Oven features & functions
Pyrolytic Cleaning Is the fastest and most convenient way to clean your oven.
Heats the oven up to 500 degrees celsius.
No chemical cleaners or scrubbers required.
Can also clean NEFF pyrolytic-proof accessories, such as pans and roasting dishes.
The oven door locks until the prgramme has ended and the oven has cooled down sufficiently.
Pyrolytic ovens offer three levels of cleaning, depending on the soil level of your oven:
Level 1 – light
Level 2 – medium
Level 3 – intensive
CircoTherm® Ovens.
With CircoTherm®, you can evenly cook completely different dishes at one time, using all oven levels, without any intermingling flavours. This hot air seals food quickly, retaining moisture and preventing flavour transfer. Your fishcakes will taste like fish and your muffins will taste like muffin.
How does CircoTherm® work?
CircoTherm® works by drawing air in from the oven via a powerful stainless steel fan. It then heats up the air and forces it right back into the oven cavity through strategically placed ducts in the rear wall. As a result, the desired temperature is reached much more quickly and is distributed more evenly throughout the oven.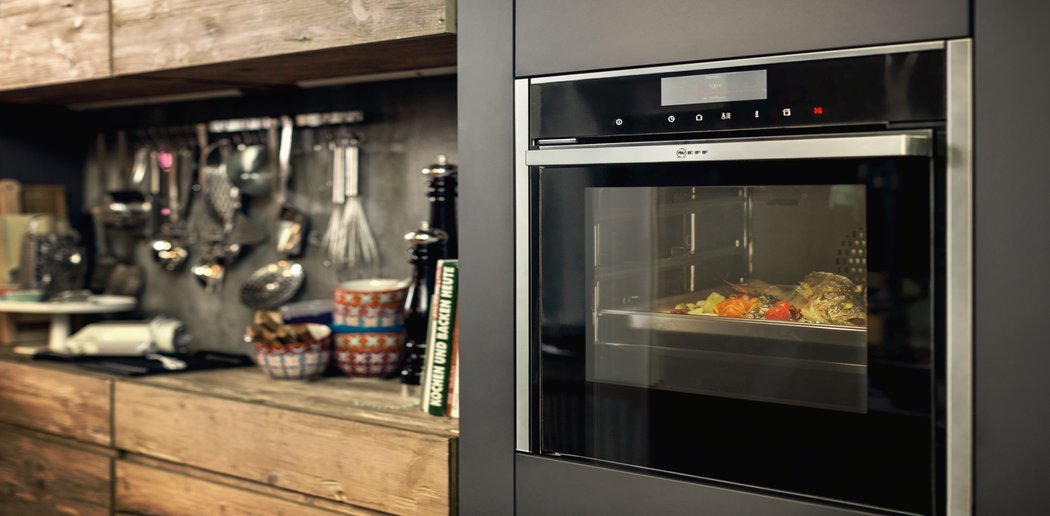 Features include:
Unique hot air-system for simultaneous baking and roasting. Sweet and savoury dishes can be cooked together, on up to 4 shelves within the N90 & N70 collections & 3 levels on the N50 collection.
Food is sealed quickly helping make the perfect moist chicken or cake.
Perfect batch baking results.
Grilled effect for foods. (When cooking a variety of foods that normally would be traditionally grilled such as bacon, sausages and tomatoes using the oven rack over the universal pan)
NEFF Steam Ovens.
Neff's new range of FullSteam® ovens combine conventional CircoTherm® oven and steam cooker heating, for fresher vegetables that have intense flavours and retain their flavours. Simply fill the oven's concealed one litre container and choose whether to cook using part steam or 100% pure steam. Full Steam Oven combines all of the heating modes of a full-featured oven with those of a steam cooker, all in one appliance. 
Full Steam vs VarioSteam.
Full Steam:
Cooks food gently and without loss of aroma, colour, vitamins and minerals are retained.
Food cooked with Full Steam has no enhanced colourisation or crispness.
Full steam options- Reheat, Dough Proving, Defrosting
Preserve colour, taste, vitamins and minerals.
VarioSteam:
Foods cooked with a traditional cooking function and VarioSteam produce a crisp, browned exterior whilst ensuring a tender, juicy interior or – in the case of baked goods – a soft, fluffy interior.
The VarioSteam process works by injecting steam at different intervals and intensities in to the oven cavity during the cooking process.
Quicker cooking times by up to 25%  
NEFF Combination Microwave ovens.
The NEFF Combination Microwave gives you the convenience of a high-powered microwave with oven and grilling functions, allowing you to prepare all kinds of meals in one appliance. With its 14 automatic cooking and defrosting programs, these ovens make every kind of cooking easy.
For example, you can simply enter the weight of your food or choose the type of food you're cooking from a preprogrammed menu. The oven simply takes care of the rest. Oven to plate in minutes.
Featuring microwave inverter technology the Neff range of Combination Microwave Ovens cook food evenly, so you'll enjoy tasty meals with a better texture. For better quality food every time, intelligent inverter technology adjusts the output power, and regulates the temperature when used in longer operation for gentler cooking. This ensures better results and food that isn't dry or overcooked.
These ovens also feature an innovative ShiftControl panel to make navigation simple and setting the appliance quick. The drop-down door offers soft opening and closing making the appliance a joy to use.